Affiliate Programs
CEU Events
We are pleased to announce the DPHA Continuing Education Program is now available to all members of Decorative Plumbing and Hardware Association (DPHA).
DPHA and CEU Events partnered to bundle the power of an Association and deliver a package of multiple CEU courses to DPHA members for a fraction of the cost of a single course.
If you are a manufacturer, showroom or representative professional seeking to reach the A+D community and you are interested in presenting in-person accredited CEU Events this program was built for you.
As a subscriber to the program, the following CEU courses will be available to you: Bath Innovations 1.0, Kitchen Innovations 1.0 and Does Internet Price Outweigh Industry Expertise and Knowledge.
In addition, you will have access to the CEU Events Platform tools for the most efficient and paperless managing process of your CEU Events.
To sign-up click here.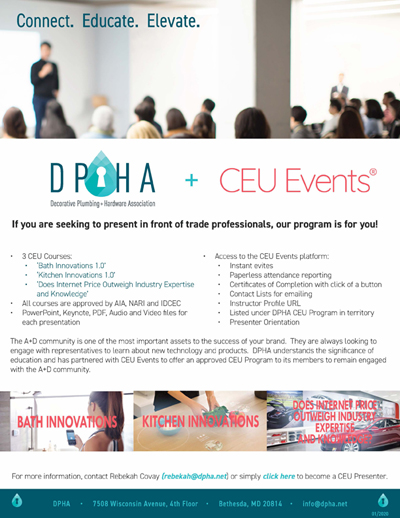 ---
DPHA UPS Savings Program
UPS® and UPS Freight® can help take your business to the next level. With a vast transportation network mapping the globe, our full range of services gives your company speed, flexibility and efficiency.
As a DPHA member, you have exclusive access to the DPHA/UPS Savings Program, a program designed to help you save on all your small package and LTL freight shipping with UPS and UPS Freight.
With logistics solutions from UPS®, you can work smarter and cut costs. DPHA members save on packages and freight with UPS and UPS Freight®—streamlining your shipping process from beginning to end.
DPHA Members can realize the following discounts:
Up to 30% on UPS Next Day Air®
Up to 26% on Worldwide Express® Export
Up to 23% on UPS 2nd Day Air®
Up to 12% on UPS Commercial Ground
Customized pricing on LTL freight
Members, click here to learn how to take advantage of these savings.