Past Award Winners
The DPHA has created its awards program to recognize the best of the best in an industry that demands nothing less. Each year the DPHA team receives an abundance of entries for industry leaders and products alike. Our Professional Award Nominees are nominated by their peers and recognized for their work ethic, passion and contributions to the DPH family.
DPHA's Product of the Year Program recognizes uniqueness, design, functionality, innovation and technological superiority.  To help assure that the judging is unbiased, DPHA outsources the evaluation process to an independent panel of experts who are not affiliated with DPHA or any of its members.  The 2021 judges were: Mary Jo Peterson, Mary Jo Peterson Design; Eliot Sefrin, founding director and publisher emeritus of Kitchen & Bath Design News; Alissa Ponchione, executive editor at Hospitality Design magazine, Molly Switzer, Molly N Switzer Designs, and Alena Capra, Alena Capra Designs.
DPHA 2021 Product of the Year Winners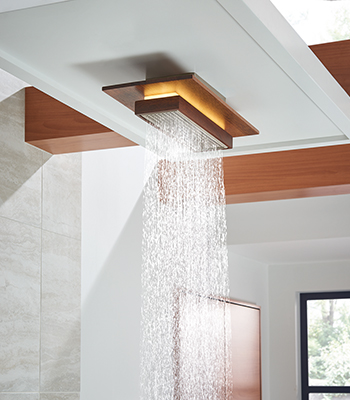 Brizo
Frank Lloyd Wright Raincan Showerhead
2021 Professional of the Year Winners
Dealer of the Year Winners
Manufacturer of the Year Winners
Representative of the Year Winners
To read more on the 2021 Product winners and honorable mentions, click here.
DPHA Past Award Winners
Plumbing Fixture 
2021
MTI Baths Bowie Freestanding
2020
Native Trails Amalfi Sink
2019
BainUltra VIBE Back-to-Wall Tub
2018
Zitta's Materia Shower Enclosure
2017
Victoria + Albert's Eldon Tub
2016
2Step Sink by Alape
2015
Wave Tub by WETSTYLE
2014
Ledge Prep Sink by Lenova
2013
Metrio Modular Lavatory by Stone Forest
2012
OpenSpace by Duravit
2011
Black Embossed Bathtub by Blu Bathworks
2010
Blanco Ronis by BLANCO
2009
Eterne Bathtub by MAXX Bath Inc.
Starck K by Duravit USA
2008
SYNC by Stone Forest
2007
Julien's Bench Toilet
2006
KWC Waterstation
2003
BainUltra's Temazkal
Water Delivery 
2021
Brizo Frank Lloyd Wright Single-Function Raincan Showerhead
2020
AXOR Edge Faucet
2019
AXOR MyEdition Faucet
2018
SIGMA Sigma Flo
2017
The GRAFF Sospiro Kitchen Faucet
2016
ShowerSelect SoftCube Thermostatic Trim by Axor
2015
Palomar Art Deco Tub Filler by California Faucets
2014
Kartell by Laufen Faucet
2013
ONO Light One Touch by KWC
2012
Ametis Shower System by GRAFF
2011
Complete Shower System CURA #960 by Aquabrass
2009
Integrated Faucet Filtration by ROHL LLC
2008
Dream Light Rain Canopy by JACLO Industries
2005
Water Decor's Pacifica
2004
KWC Murano
Furniture
2021
Stone Forest Elemental Vanity with Crossbar
2020
LACAVA Newterra Vanity
2019
Robern Uplift Tech Cabinet
2018
Stone Forest's Elemental Collection
2017
The Furniture Guild's Avant 620-0560-OB-B49 Vanity
2016
The Galley Dresser
2015
Dressage Vanity by Graff
2014
Sophia Vanity by Furniture Guild
2013
Toledo 30" Vanity by Fairmont Designs
2012
Halcyon by Native Trails
2011
Bordeaux Wall Mount Vanity by Native Trails
2010
MANHATTAN Bath Vanity by Xylem
2009
M Collection by WETSTYLE
Accessory
2021
Sterlingham & Co Marble Heated Towel Rail
2020
Infinity Drain Universal Drain
2019
Kartners Bathroom Accessories Knurled Grab Bar
2018
Infinity Drain Compact Floor Drain Body
2017
Infinity Drain-USG Shower System
2016
Linear Steamhead by Mr. Steam
2015
Heated Sink Stand by Barber Wilsons/Sterlingham
2014
iSteam 2.0 Swipe-Touch Control Panel
2013
StyleDrain by California Faucets
2012
Solitude Mobile Application by ThermaSol
2011
Cinu Toilet Tissue Holder with Glass Shelf by Ginger
2010
Blanco Solon Compost System by BLANCO
2009
Standy by ITALBRASS Group
2008
Cold Storage M-Series Cabinet by Robern
Cabinet Hardware 
2021
Waterstone Faucets Industrial Appliance Pull
2020
Colonial Bronze CuSalus E-Series
2019
First Impressions' Glacier 1 Pull
2018
Colonial Bronze Empire Collection
2017
Accurate Lock and Hardware's SilentPac Solutions
2016
Triangular Door Pool by Hamilton Sinkler
2015
Argyle Round Knob by DuVerre Hardware
2014
Precisely Beautiful Cabinet Knob by Colonial Bronze
2013
Barn Door Track by Sun Valley Bronze
2012
ARROYO Pull by Du Verre Hardware
2011
Offset C-OF01 Knob by DuVerre Hardware
2010
Convertible Latches by Berenson R. Christensen
Purfectkurv by MAXX Bath Inc.
2009
BCJ Lever 1 by Reveal Designs
2008
Tanner's Craft by Colonial Bronze
2007
Beyerle's exposed stainless steel sliding door system
Door Hardware
(New in 2020)
2021
Accurate Lock & Hardware SmartEntry Mortise for Sliding and Pocket Doors
2020
Accurate Lock & Hardware SmartEntry
Technology Category
(New in 2020)
2021
Airmada Drying Solutions Shower Drying System
2020
ThermaSol ThermaTouch 10" Shower Kit
Showroom Professional 
2021
Joshua Moss, Advance Plumbing
2020
Richard Campbell, Belmont Hardware
2019
Valerie Ezra, Central Plumbing Specialties
2018
Phil Hotarek, Lutz Bath and Kitchen
2017
Tonya Martin, ProSource Supply
2016
Kymberly Weiner, Best Plumbing Tile & Stone
2015
Mindy Sevinor-Feinberg, Salem Plumbing Supply
2014
Ada Aldana, Designer's Plumbing & Hardware (Miami, FL)
2013
Jeremy Smith, Central Arizona Supply
2012
Kaye Powell, Chown Hardware
2011
Maureen Ashe, General Plumbing Supply
2010
Gary Erickson, Renaissance Molding & Design
2009
Tim Murphy, Klaff's
2008
Melissa Allen, Cobblestone Court
2007
Marilyn Hermance, Westheimer Plumbing and Hardware
2006
Faye Norton, Designer Hardware by Faye
2005
Debbie Miller, Millers Decorative Plumbing and Hardware
2004
Julie Koch, Elegant Additions
2003
Charles Goldberg, Union Hardware
Rep Professional 
2021
Kory Nelson, Premier Marketing
2020
Tom Brown, Brownstone by Emerson Swan
2019
Yana Haralanova, Repcor
2018
Noel Garcia Sr., Decorative Sales Associates
2017
Blake Rivas, TCB Sales
2016
John Matlack, Level 5 Sales & Marketing
2015
Kim Kilgore, The Rain Company
2014
Ray Whitehead, Sr., Whitehead & Associatesa
2013
Paula Quan, Bobier Sales
2012
Cynthia Carter, Next Generation Marketing
2011
Dale Domingo, Associated Sales
2010
Jerry Williams, WMS Decorative Resource
2009
Dennis Mezzapesa, TCB Sales
2008
Tim Vander Wall, InterArchitectural Products
2007
Bob Marshall ACS Marketing
2006
Dan Beaudet, Dan Beaudet Company
2005
Jim Babbitt, Hot2Cold
2004
Debby Stehr, Stehr Enterprises
2003
Mary Labowitz, Premier Marketing
Manufacturer Professional 
2021
Bruce Reidel, Mountain Plumbing Products
2020
René DeRose, Hydro Systems
2019
Steven Weinberg, California Faucets
2018
Barbara Kratus, Infinity Drain
2017
Tom Bryant, BainUltra
2016
Cary Hergenrother, LIXIL Brands
2015
Martha Orellana, MrSteam
2014
Javier Korneluk, Laufen
2013
Henry Brunelle, BainUltra
2012
Jeff Noll, Steamist
2011
Martin Siwy, Thermasol
2010
Sarah Jenkinson, Barber Wilsons & Co./Black Country Heritage
2009
Kim Frechette, BainUltra
2008
Larry Brodey, JACLO Industries
2007
David Crossley, Duravit, USA
2006
Jamie Gregg, Colonial Bronze
2005
Naomi Neilson, Native Trails
2004
Ken Rohl, ROHL, LLC
2003
Jeff Valles, Phylrich International
Customer Service Department
2021
Waterstone Faucets
2020
Belwith Keeler
2019
ICERA
2018
Americh
2017
Accurate Lock and Hardware
2016
Infinity Drain
2015
GRAFF
2014
California Faucets
2013
Colonial Bronze
2012
Sun Valley Bronze
2011
JCR Distributors
2010
Stone Forest, Inc.
2009
Legacy Brass
2008
JACLO Industries
2007
ROHL, LLC
2006
Environmental Water Systems
2005
BainUltra
2003
JACLO Industries
Showroom of the Year
2021
Ultra Design Center, Denver, CO
2020
Chown Hardware, Seattle, WA
2019
Decorative Plumbing Supply,               San Carlos, CA
2018
Advance Plumbing & Heating Supply, Detroit, MI
2017
Premier Bath & Kitchen, Walnut Creek, CA
2016
Pierce Hardware, Dallas, TX
2015
Clyde Hardware, Phoenix, AZ
2014
Monique's Bath Showroom, Watertown, MA
2013
Union Hardware, Bethesda, MD
2012
Allied Kitchen & Bath, Fort Lauderdale
2011
Banner Plumbing Supply
2010
Billie Brenner, Ltd.
2009
Designer's Plumbing Studio
Morrison Supply, Houston, TX
2008
Klaff's
Sante Fe by Design
2007
Chicago Brass
Miller's Fine Decorative Hardware, Jupiter, FL
2006
Community Home Supply
Sonoma Kitchen & Bath
2005
Designer Hardware by Faye
Euro Bath + Tile
2004
Waterware, Chicago, IL
Renaissance Design Studio
2003
The Bath & Beyond, San Francisco, CA
Rep Agency of the Year
2021
Excel Marketing
2020
Magruder Sales Associates
2019
Level 5 Sales & Marketing
2018
D'Antoni Sales Group
2017
Premier Marketing
2016
Associated Sales
2015
Next Generation Marketing
2014
WMS Decorative Resource
2013
TCB Sales
2012
Decorative Sales Associates
2011
DeLux
2010
Gotham Sales Group
2009
The Doliner Group
Pinnacle Sales Group
2008
Amorello Sales
Western Sales Company
2007
Magruder Associates
Silvertip Marketing
2006
Cool Lines
Hot2Cold
2005
Luxury Marketing