2022-2023 Design Trend Panel Discussion
---
Wednesday, October 19, 2022
Zoom Link Sent Once Registered
Category: Educational Webinars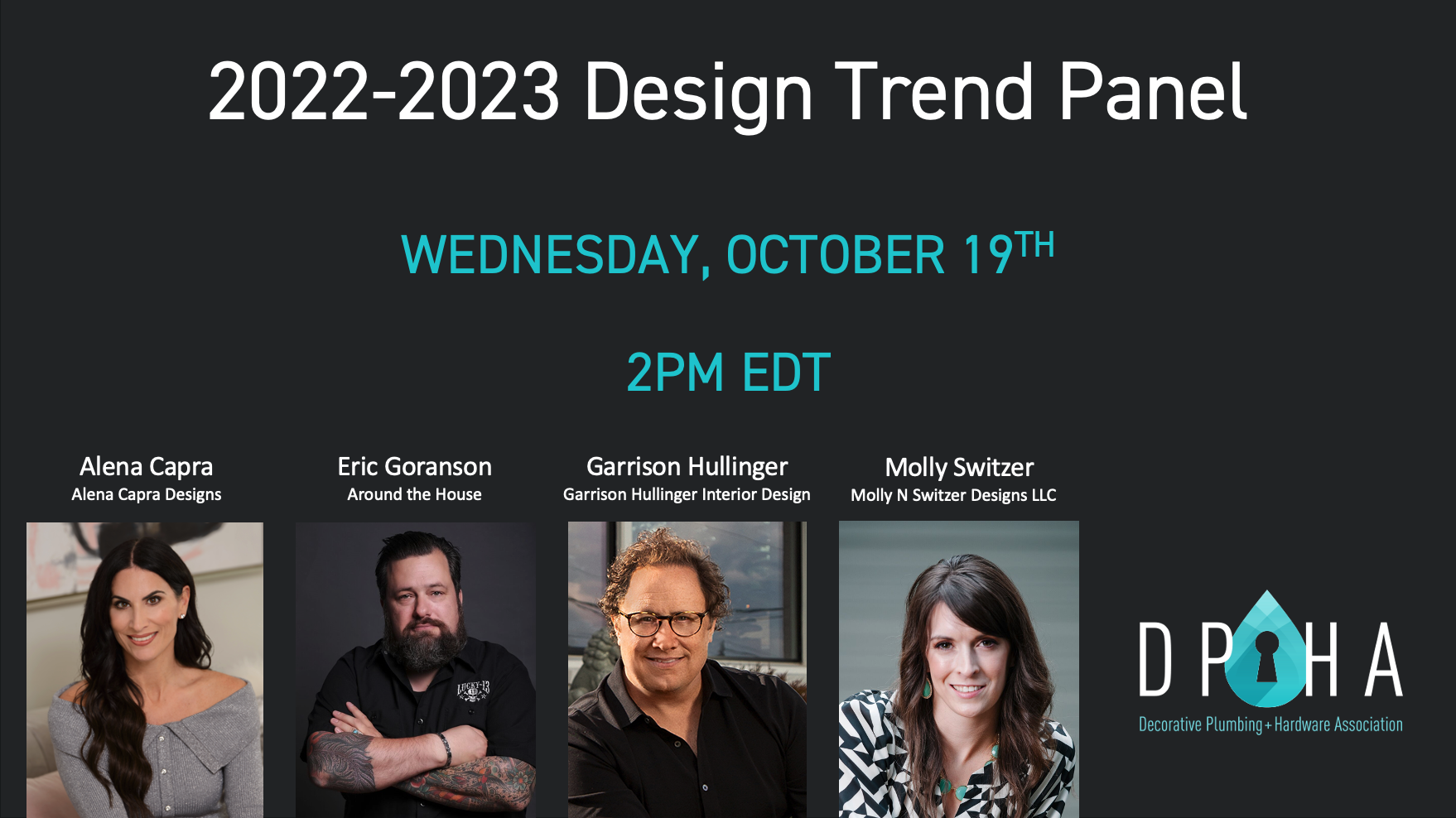 Join designers Alena Capra, Eric Goranson, Garrison Hullinger, and Molly Switzer as we talk about trends from 2022 and what 2023 trends will look like.
Alena Capra is the owner of the Fort Lauderdale, FL based firm, Alena Capra Designs. In addition to designing in South Florida, Alena also has worked on design projects nationwide, including New York, California, Arizona, Massachusetts, Minnesota, and Georgia. She is a Certified Master Kitchen and Bath Designer, whose projects have won national awards and been featured in national and regional media outlets.

A graduate of the University of Miami and the Metropolitan Institute of Design, Alena was named one of four finalists for the NKBA's Professional of the Year Award in 2016, and most recently, one of six "Praiseworthy Picks," for Kitchen & Bath Business magazine's Person of the Year feature. In addition, she has been a member of the NKBA's Certification Test Board, and has also served as a judge for the NKBA's National Kitchen & Bath Design Competition. For the past five years, she has served as the Industry Ambassador for Coverings, the largest global tile and stone exhibition in North America. Beyond her work as a designer, Alena also spends time as an on-air personality, sharing her design expertise on local and national TV, on design-related educational videos, at home shows, showroom openings and other industry events. She has been featured on Lifetime, DYI, History Channel, H2, and she hosts a weekly design show on the local ABC affiliate in Miami/Fort Lauderdale, WPLG Local 10.

Eric Goranson, CKD is a Certified Kitchen Designer with the National Kitchen and Bath Association for over 20 years and has been designing since 1993. Nationally recognized as "Eric G®", he is a syndicated 10‐year home improvement radio talk show host. Eric talks with homeowners and contractors about remodeling and new construction techniques every week. He is also a national podcaster and is now heard internationally and with about half of the listening audience being from the building trade. His shows draw great support from the contracting community.

Eric also hosts the Around the House "Pro Insider" podcast that is for the residential building and remodeling professionals. Eric has managed everything from home builders, design firms, to custom cabinet shops and has been involved in thousands of projects being constructed or remodeled. Eric also consults with national brands on product design and industry trends, with companies such as Baldwin Hardware, Kraft Maid Cabinetry, and many more.

As founder and Principal Designer of Garrison Hullinger Interior Design, Garrison transformed his one-man studio into a nationally recognized firm with a prestigious portfolio of work. Passionately involved in the design community, Garrison regularly speaks at conferences and has achieved great recognition for his contributions to the industry. His work has earned him a Golden Nugget award for interiors, 18 Houzz awards in nine years, an esteemed position as a judge at the KBIS Award Ceremony, and a member of the Zillow advisory board.

Garrison is always busy with residential, hospitality, and commercial projects, but his recent work is particularly staggering in both size and range. One project is a new four-star resort in Deer Valley, Utah. This resort has 395 guest rooms, 20,000 square feet of conference hotel space, three restaurants, and two bars. Garrison is also designing the 62 private residences in two different schemes at the same property. Another project that's keeping his life exciting is Four Seasons Vail, where he's working with a highly-curated team of designers to design opulent suites and residential homes on the mountain.

Garrison is a strategic thinker who understands the luxury market from all angles. He knows how to scale without losing sight of the smallest—and most impactful—details. GHID isn't known for one singular aesthetic, but when you walk into a room Garrison designed, you know it instantly. He has the uncanny ability to make any space timelessly elegant, and feel exactly as it should.

Molly Switzer launched Molly N. Switzer Designs LLC in 2017 after she held positions at Chown Hardware and Precision Countertops for nearly a decade. Molly N. Switzer Designs LLC focuses on residential interior design with emphasis on kitchen and bath. The firm also has acquired an expertise in home-connected technology, offering guidance, design and product specification for smart home applications and products.

In February of 2020, Molly welcomed twin girls and, after 27 days in the NICU, walked out into a global pandemic. Over the last two+ years, in addition to her new role as mom, Molly has spent much of the time working on personal projects in her new "pandemic home" and establishing her own home technology equity.
For More Information: