The 2022 Product of the Year winners and honorable mentions were announced at our 21st Annual DPHA Conference and Showcase held in New Orleans last week.  You can learn more about our winners and all of the products nominated by downloading this year's Product of the Year Guide.
A special note of thanks to our esteemed judging panel who gave their time and effort to make these very tough decisions for DPHA:
---
PRODUCT OF THE YEAR - BATHROOM FIXTURE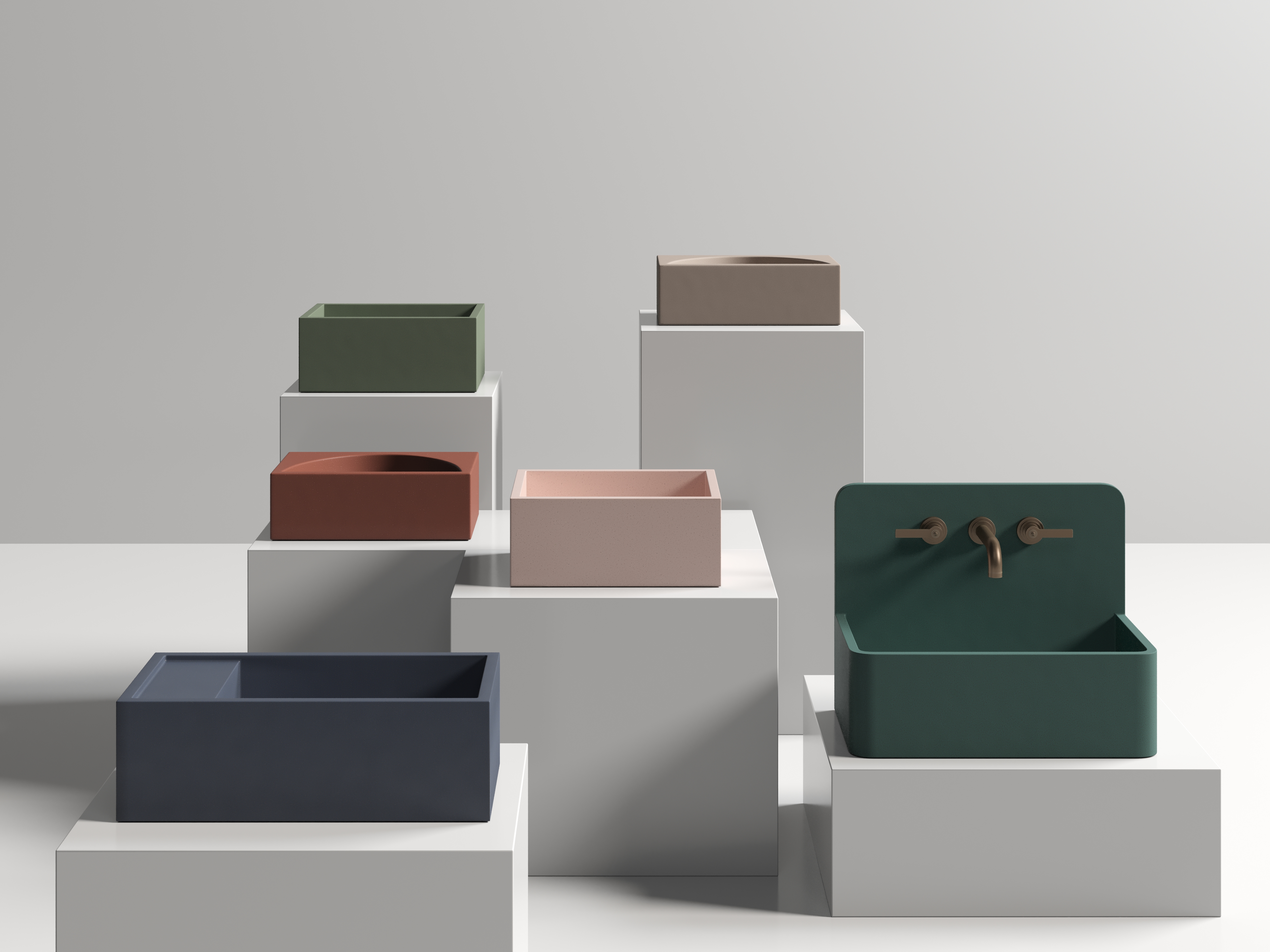 Claybrook's new MarbleForm® Wall Hung Basin collection launches with six eye-catching new colors. MarbleForm® is an up-cycled molded stone product that contains a high quantity of marble dust (70-80%) and resin. The product is produced by using reclaimed marble dust left over from the production of mosaics. MarbleForm® products are durable, non-porous, resistant to stains, repairable, heat retentive, and easy to maintain. The collection brings four new basin styles to our range, Apollo, Ayla, Deck, and Jura. Available in our new colors Brick, Forest Green, Leather, Midnight Blue, Nude, and Olive Green, as well as other MarbleForm® colors. The collection is stocked in Dallas Texas in Forest Green, Midnight Blue, and Plaster Pink.

HONORABLE MENTION - MTI Baths: Bowie Pedestal Sink
This pedestal sink has a uniquely characteristic Bowie pleated design, matching that of the Bowie Tub. It measures 24" x 16" x 36", SculptureStone construction and is available in white or biscuit. The sink bowl is available in a soft matte or hand-polished deep gloss finish. The exterior is a soft matte finish or can be specified in one of 6 colors in matte or gloss finish.
---
PRODUCT OF THE YEAR - KITCHEN FIXTURE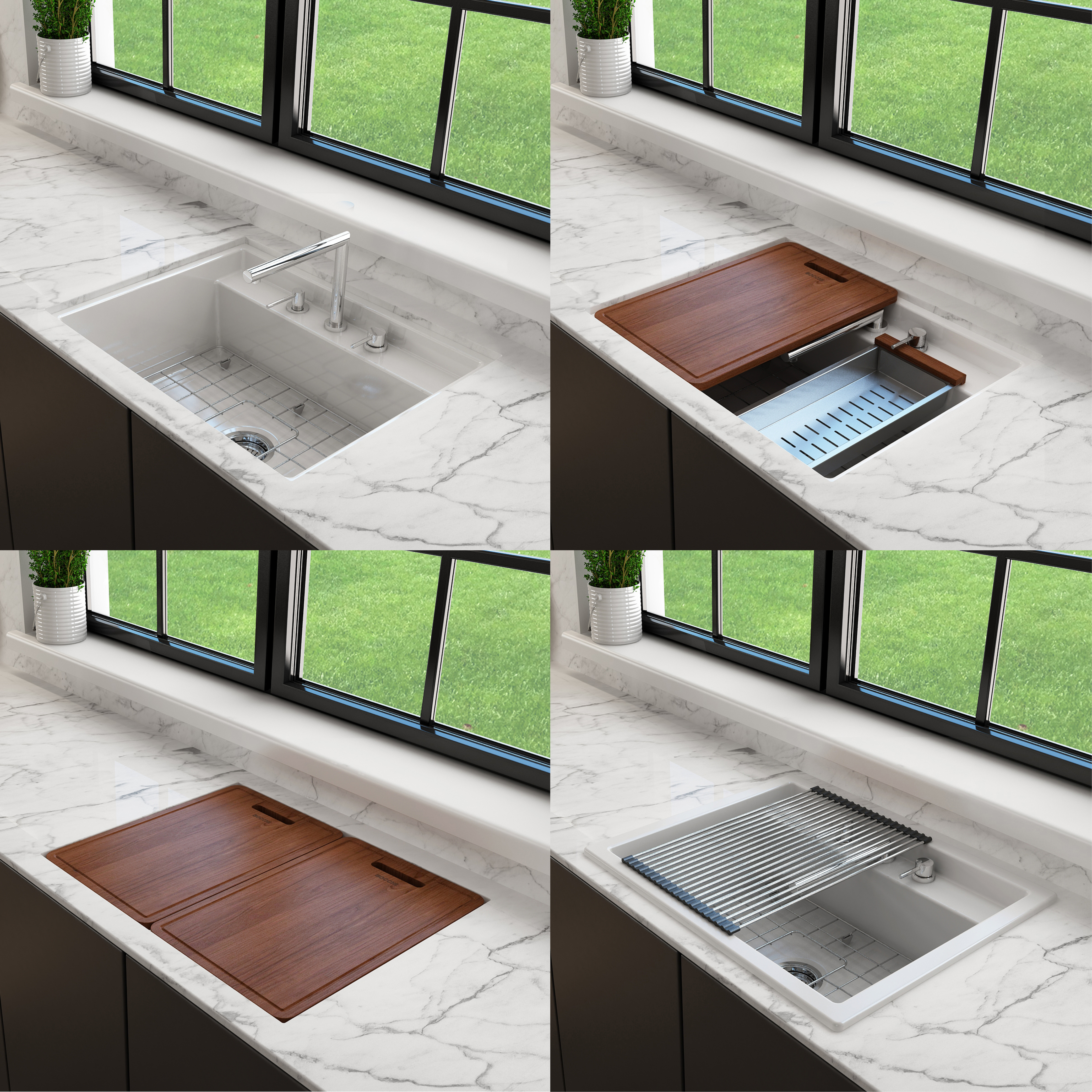 The Baveno Kitchen Sink System from BOCCHI allows homeowners to maximize their workspace by easily hiding away their sink and faucet and allowing them to easily swap between having a kitchen sink, or hiding it away in favor of more counter space as needed. The system includes multiple styles of telescopic faucets that effortlessly move from their "up" position to hide away inside the sink beneath the covers. The Baveno sinks also feature an integrated workstation ledge with a wide array of hardworking accessories. Available in 9 fire clay colors and 3 granite options, these sinks put you in control of your space.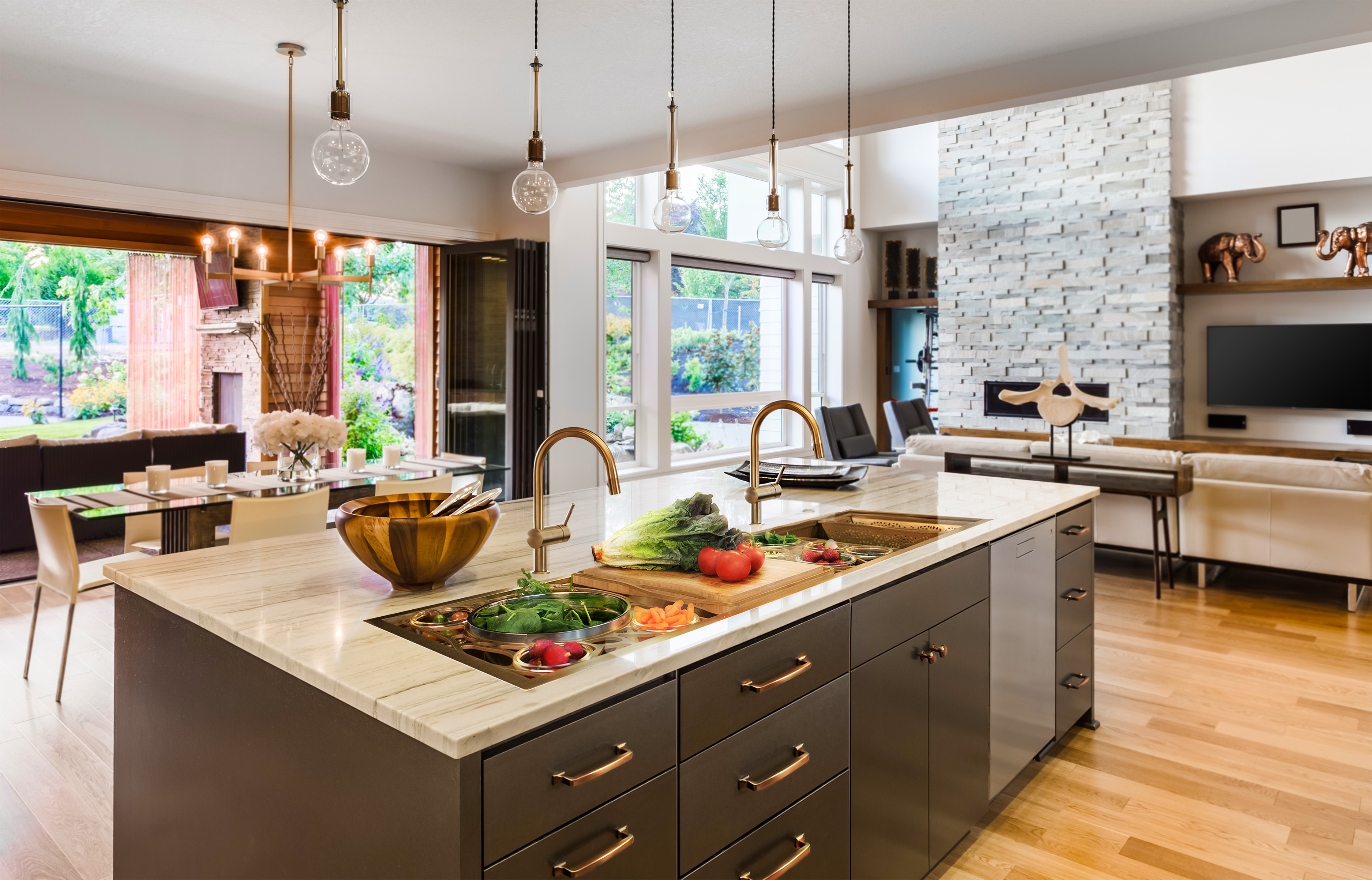 HONORABLE MENTION - Mila International: Infinity Workstation
Mila's patent-pending Triangular accessories sliding rails uses triangular solid stainless-steel rails, which are welded to the inside of the sink - this minimalist rail design has several advantages over the 90-degree bent accessories ledge used by all other workstation sinks. The triangle shape eliminates the flat surface of a ledge where dirt and debris can gather and accumulate which tends to create a maintenance issue. Bevel built into the bottom of each sink bowl corner creates a generous angle and allows cleaning apparatus like a sponge to reach all corners, unlike zero-radius 90-degree bowls which are harder to clean.

---
PRODUCT OF THE YEAR - MECHANICAL
Installing a freestanding bathtub the old way is cumbersome, and a lot can go wrong, especially when compared to using Mountain Plumbing's Tub Docking Station. Mountain Plumbing Products has developed the Tub Docking Station as the ultimate solution to quickly and easily install freestanding bathtubs. This product solves common issues that are associated with this task and makes life easier for the plumber, homeowner, and showroom.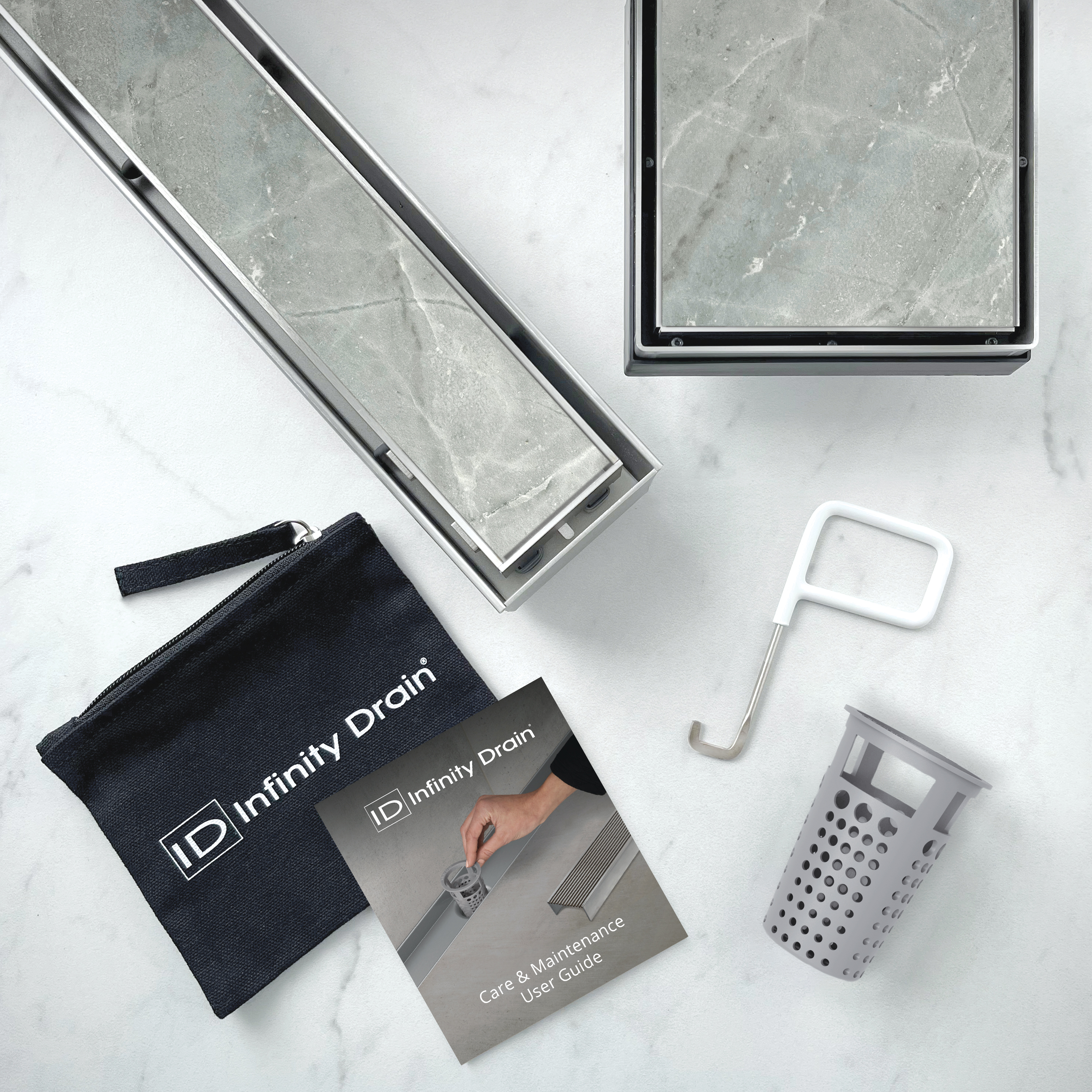 HONORABLE MENTION - Infinity Drain: Hair Maintenance Kit
Infinity Drain began shipping all of its drains with their new patent-pending Hair Basket in Spring 2022. Infinity Drain's revolutionary Hair Basket is uniquely engineered with a deep cone-shaped basket to collect more hair, soap scum, shampoo, conditioner, and other small debris than traditional drain screens. Within each Infinity Drain product package is a luxurious zippered pouch to conveniently hold the Hair Maintenance Kit inside. The kit comes complete with instructions and a comfort-coated lift-out key designed to easily remove, clean, and replace the drain's decorative grate.
---
PRODUCT OF THE YEAR - WATER DELIVERY

Designed by famous Spanish interior decorator Lázaro Rosa Violán, Venti20 collection is characterized by the chromatic beauty of the finishes that intrigues the imagination with promises of sophisticated wellness. The purity of form and the pronounced formal details of the design are beautifully nuanced, resulting in eclectic finishes with a distinctly Art Deco vibe. With carefully dosed retro notes, yet doing away with nostalgic replicas, the Venti20 Collection breathes new life into signature elements the '20s are known for – the detailing, iconic style, and playful essence. The collection ingests the enthusiasm for life and future looking optimism of that era and infuses it into the most private spaces of contemporary living.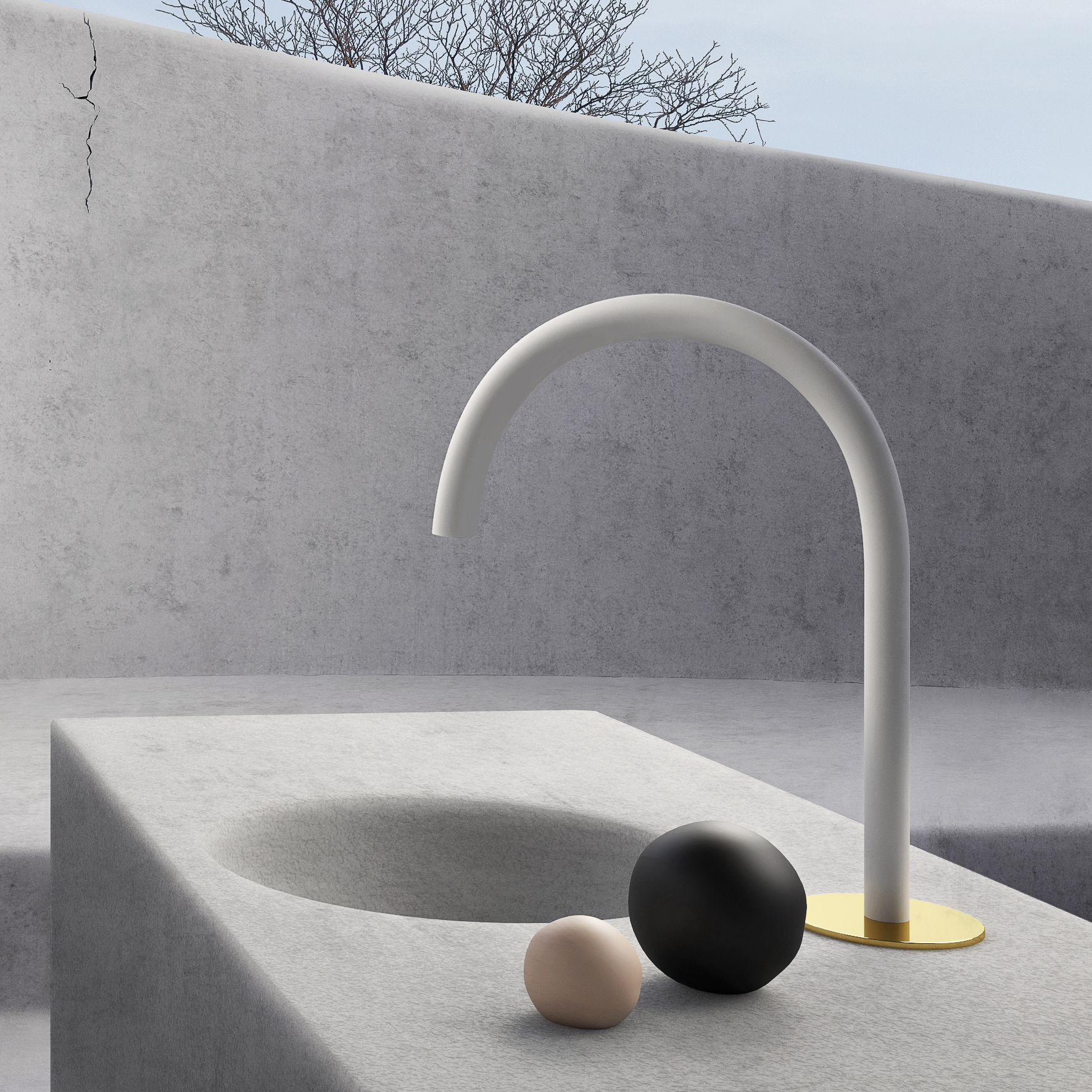 HONORABLE MENTION - Baril Design: Marie Collection
MARIE's bespoke color palette can be adapted to each component of the collection, allowing designers and users to fully customize their faucets and easily integrate them into any project. The components can also be installed with unprecedented flexibility in terms of layout. The handles controlling water flow and temperature can be placed anywhere, whether for better ergonomics, visual intrigue or both.
---
FURNITURE PRODUCT OF THE YEAR
Fairmont Designs' new Grand Central Collection brings an enhanced look to mid-century design. The Matte Black metal legs and hardware highlight the rich hues of the Natural Walnut. An added architectural element to the legs and the minimalist edge pulls provide this new collection with a sense of sophistication. Available in six sizes from 24" to 72" double, including a 60" single sink, the Grand Central is a furniture piece that inspires the overall design of the space. Functionality is also at its core, with ample storage including purposeful drawers, built-in electrical outlets and USB ports standard on all sizes.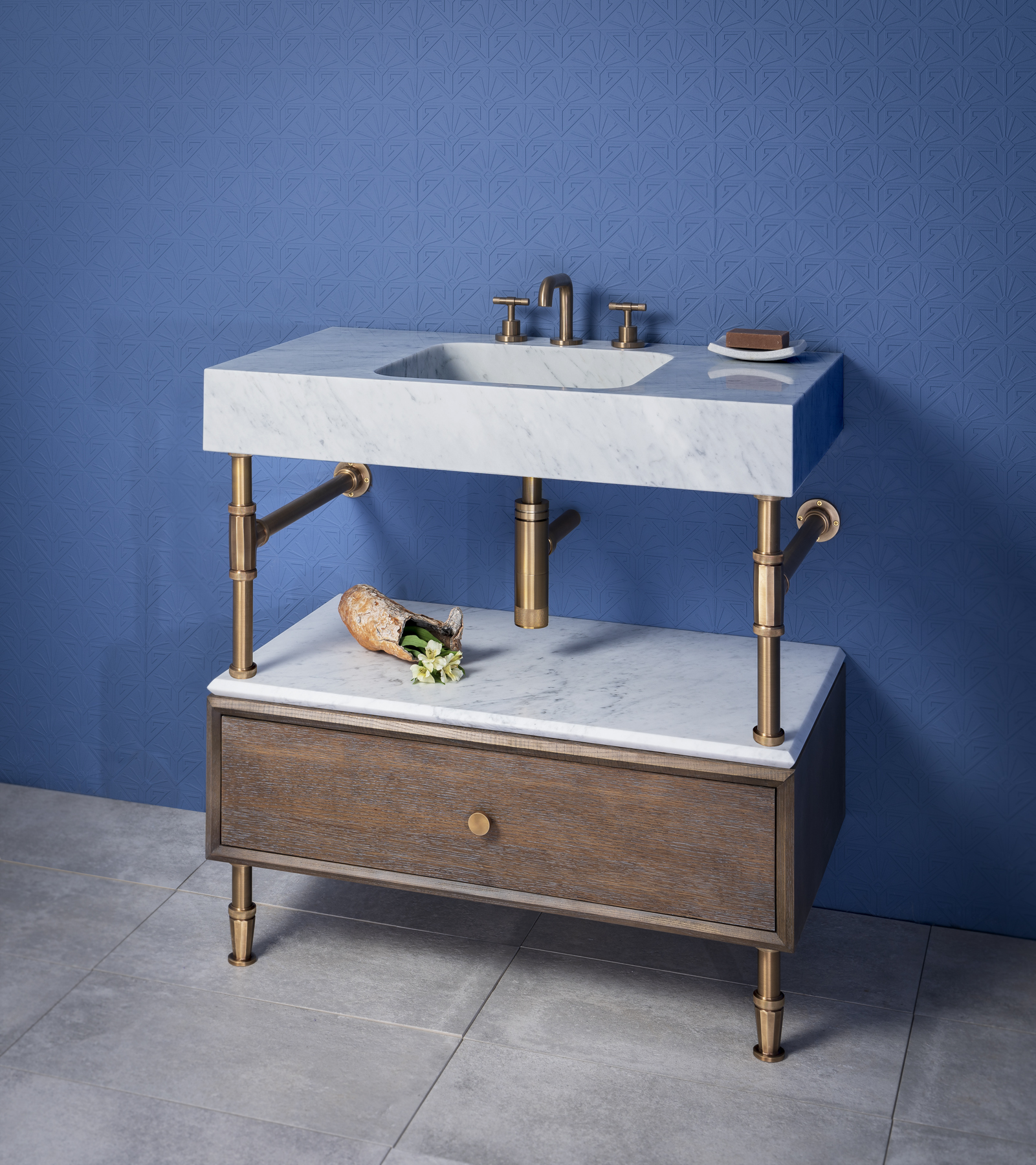 HONORABLE MENTION - Stone Forest: Elemental Facet
Elemental™ Facet are brass legs with coin-knurled fittings supporting any combination of stone, wood, and steel components. This unique modular concept allows combining integral stone sinks, wood drawers, and steel or wood shelving in unlimited combinations. Brass legs and fittings are available in either aged brass, matte black, or polished nickel.
---
ACCESSORY PRODUCT OF THE YEAR
The Jeeves Wet-Rated Installation Kit enables any Jeeves heated towel rack to be installed in wet areas. The optional upgrade kit is UL-certified making it safe to mount towel warmers in wet rooms and shower alcoves. The installation kit includes a series of stainless steel and rubber components that attach to the heated towel rack to prevent moisture from entering the electrical housing.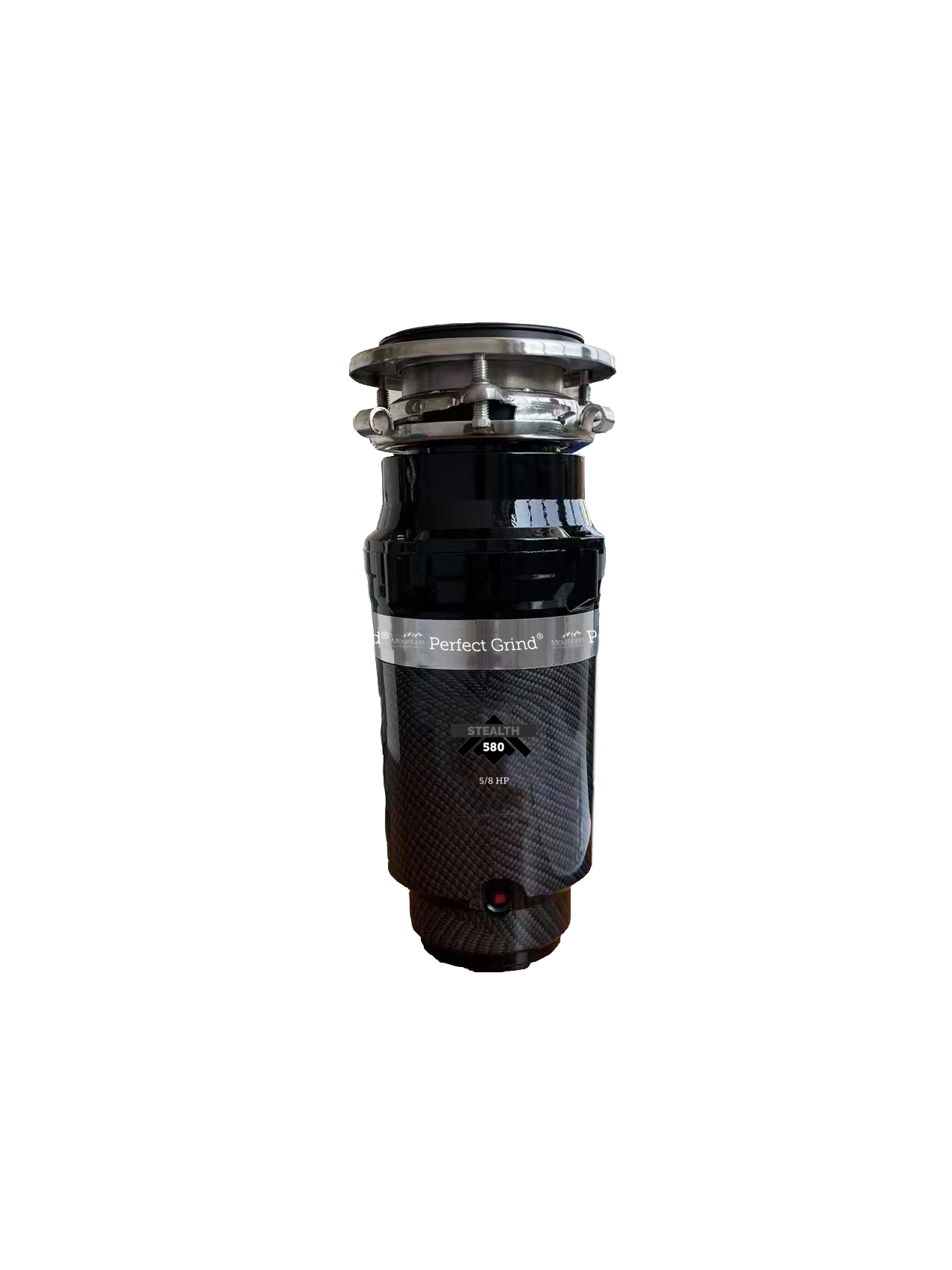 HONORABLE MENTION - Mountain Plumbing Products: Perfect Grind Stealth Series Food Waste Disposers
Traditionally, competitor disposers use an AC induction motor (this type of motor can be found in ceiling fans). This type of motor generates low torque along with only 1725 rpms. The Perfect GrindStealth Series disposers utilize a DC permanent magnet motor (found in power tools and food processors). This DC motor technology produces 30% more torque than the AC induction motor. More torque means less jams...the Stealth disposers are virtually jam-proof and backed by a lifetime warranty!
---
DOOR HARDWARE PRODUCT OF THE YEAR
The Frank Allart Precision Collection is a standard customizable door, window, and cabinet Hardware Collection. It has eight different texture options including: Smooth, Diamond Knurl, Diamond Mesh, Linear, Spiral/Starburst, Rotor, Groove, and Square Mesh. Mix and match the textures, designs, sizes, and finishes in this collection to create a personal combination with more than 50 million different standard options! HONORABLE MENTION - Accurate Lock & Hardware: Invisi-Mount
Simple and clean screwless flush pulls utilizing rare-earth magnets for secure and precis installation as an upgrade to exposed or concealed fastener options. Ideal for MDF and softer wood door species where smaller wood screws easily strip and lose hold. Also makes installation simple and less critical as flush pulls literally 'snap' into place. Invisible fasteners are designers' preferred aesthetic. The Invisi-Mount product has no distractions due to traditional fasteners. Invisible is actually misleading as there are literally no fasteners. A user's hand never feels a screw head.
---
CABINET HARDWARE PRODUCT OF THE YEAR
The Bijou Collection is comprised of 12 product families curated from our archival design legacy. The star of the Bijou Collection, the iconic X Pull, was originally created for a major furniture manufacturer more than 40 years ago. A blend of classic lines and modern elegance, the X Pull is a case study on how one element can lend a transforming look to any room, pushing design forward, and resonating with designers and homeowners alike.
Belwith Keeler has always been dedicated to seeking out design solutions for designers that help them create a marriage of sophistication and functionality. More than a dozen jewelry-inspired designs have been curated to create the Bijou Collection, including the Sybil Ring Pull, inspired by jewelry designer David Yurman's iconic cable bracelet.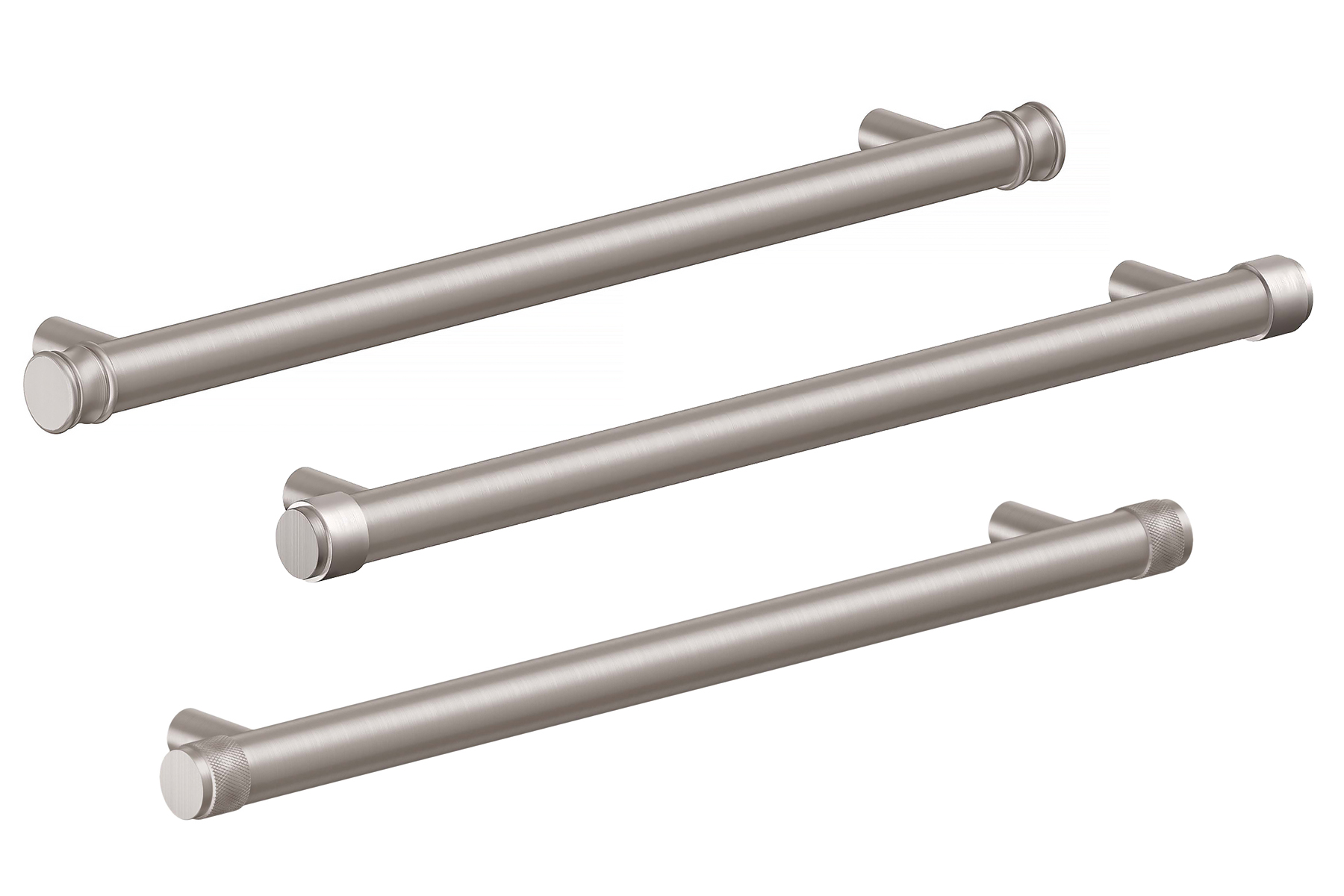 HONORABLE MENTION - California Faucets: Appliance Pulls
California Faucets appliance pulls enable a kitchen to be finished in any style desired. There are four styles of appliance pulls to match any design whether it be traditional, contemporary, transitional, or industrial. Because the appliance pulls are all brass, choose any of the 25+ artisan finishes to complete the look.
---
TECHNOLOGY PRODUCT OF THE YEAR
ThermaSol's streamlined 5-inch LCD in-shower SignaTouch Smart Touchscreen Control manages lights, music, precision water and temperature control and shower outlet selections with a simple touch. With the ability to mount the control vertically or horizontally, its built-in Bluetooth®, stereo audio output when paired with Serenity Light, Sound, Rainhead, two customizable user settings, 15 trims and finishes and recessed design for seamless installation, SignaTouch ensures the shower and steam experience is completely personalized.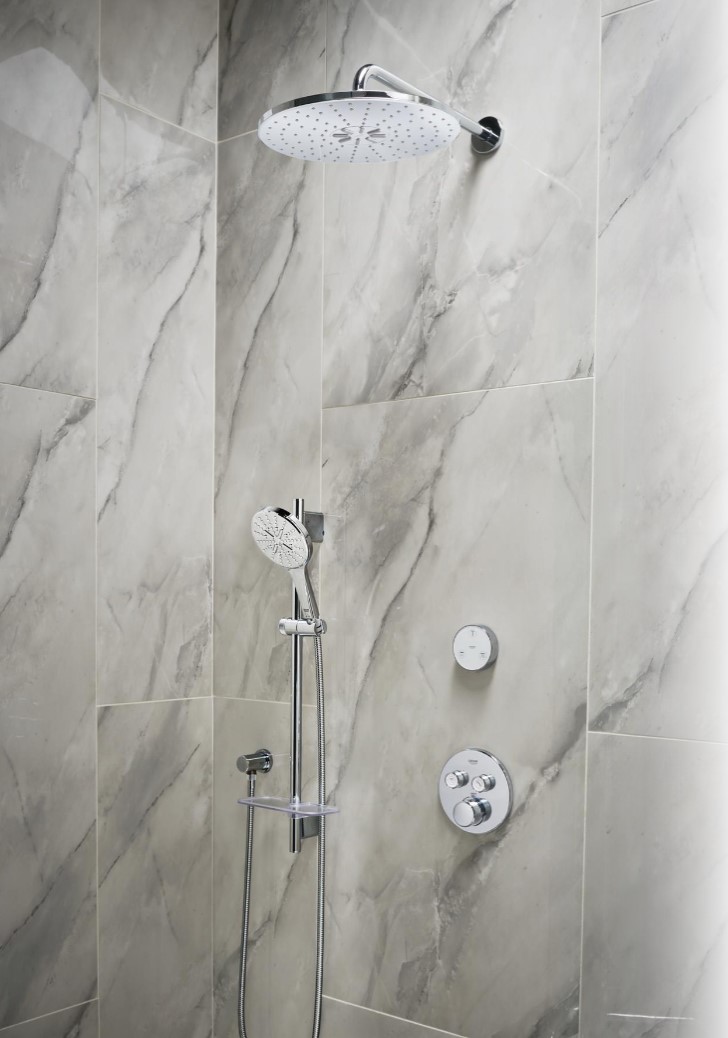 HONORABLE MENTION - GrohTherm SmartControl
Turn up the water volume or down if you prefer! GROHE Smartcontrol offers not just a choice of shower sprays, but also the precise control of water flow. GROHE Smartcontrol features an integrated volume control for an individual shower experience. A simple push of a button starts or stops the desired water function! And just a turn of the dial allows for German-engineered precision control of the water volume. Thanks to clear symbols on the buttons, operating them is simple and intuitive. Integrated GROHE Turbostat® technology also prevents any unpleasant temperature fluctuations. Just one rough-in and one trim is needed to run six shared or three individual water features!

Congratulations to all of this year's winners!