Hastings Tile & Bath Launches New Tricot Vanity Collection.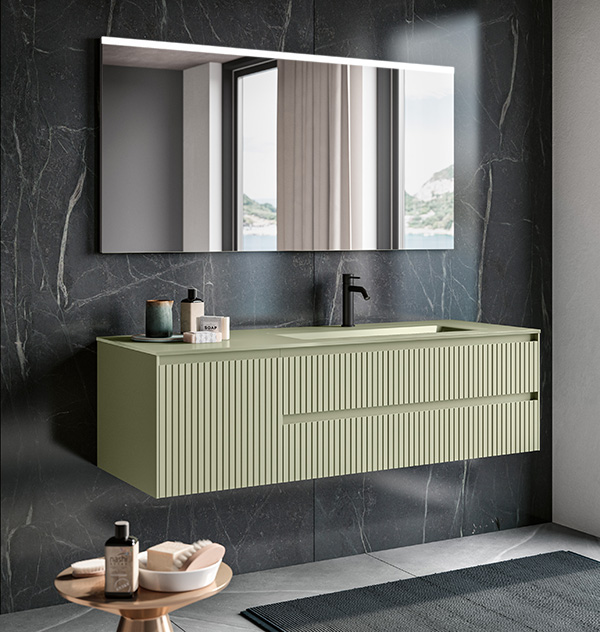 Hastings Tile & Bath announced the introduction of Tricot, a new vanity and storage collection. Tricot is a modular collection featuring four distinct fluted paneling sections. The series allows ample opportunities for customization of size, color, finish and material, and style of sink. Additional wall storage units are also available.
Three of Tricot's fluted patterns, as well as the flat panel style, are hand-made of real oak veneer, providing a durable and natural modern look. The fourth fluted style is available in Hastings' newly-launched range of 20 current-yet-timeless colors, with a matte lacquered surface finish. Notably, a tone-on-tone look can be achieved by matching solid-surface or glass countertop colors to matte lacquered cabinet fronts.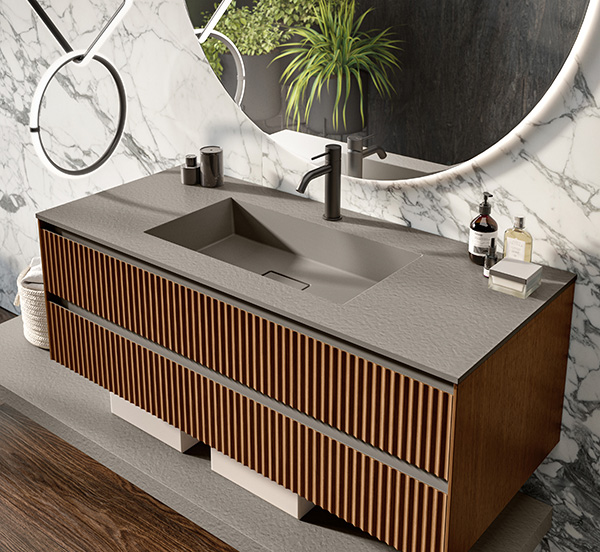 Tricot countertops are available in several different materials: Glass, solid surface, high-pressure laminate, and porcelain. Glass countertops come in Hastings' new 20 colors, either matte or glossy. Solid surface countertops are available in the same 20 colors, either textured matte or flat gloss. Countertops also come in 14 high-pressure laminate options that possess the look of wood or stone. And lastly, a palette of 16 porcelain offerings is also available, each in one of four surface finishes – Lucido (glossy), Opaco (matte), Goffrato (embossed and textured), or Ardesia (Slate).
"Tricot achieves a very modern aesthetic, with its structural simplicity and textured details," said Bob Gifford, Director of Business Development at Hastings Tile & Bath. "Add to that the ability to create a tone-on-tone look, and this becomes particularly design-forward and special, stylistically. Tone-on-tone is something we're seeing a lot in Europe, but we are leading the trend here in North America."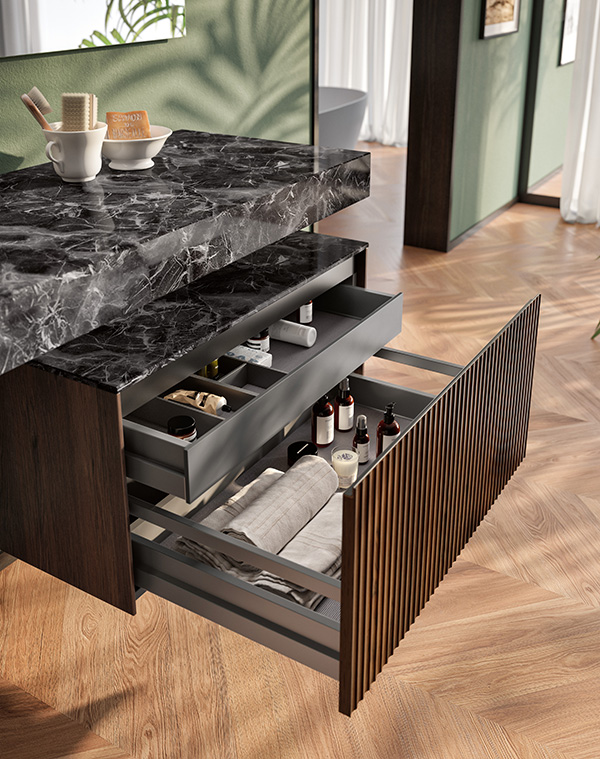 Tricot can be made as either a single or double vanity, and with regard to sink styles, options are plentiful. New vessel sinks made of matte white solid surface are available - round or rectangular - on all countertop materials. Glass countertops allow for matching integrated basins in two styles.
Gloss solid surface tops offer integrated sinks in four styles with multiple drain options. Also available for matte white solid surface tops is a new, integrated "Contour Sink," where the countertop smoothly curves downward to form a basin. Textured solid surface tops allow for an integrated sink with smooth matte inner basins, providing a subtle visual and tactile contrast. Integrated sinks are also available for both porcelain and high-pressure laminate countertops.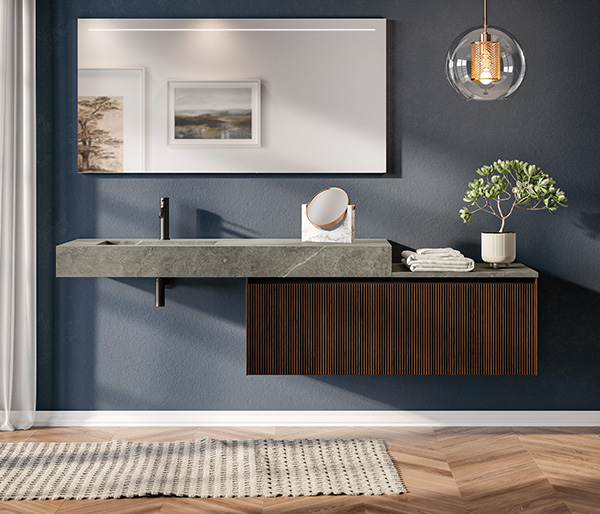 Tricot - as well as Hastings' collections Class and Urban - offer optional floating countertops with sinks that can be installed in accordance with ADA guidelines, while also offering usable storage solutions for the entire family. Says Gifford, "We're very conscious of the need to accommodate aging in place, and bath design is crucial to building a home that works for this purpose. Additionally, we want to make sure we are creating solutions suitable for individuals who are differently abled. With the addition of Tricot, we are creating additional options for accessible luxury."

DISCOVER TRICOT