MTI Baths Introduces Stunning Selection of Cosmopolitan Collection Shower Bases.
The new Cosmopolitan Collection from MTI Baths continues to impress with its high-style line of freestanding tubs and distinctive sinks. And the latest debut is no exception, a chic selection of shower bases that brings modern flair and sophistication to the bathroom. With an array of styles, sizes, textures and colors to choose from, the Cosmopolitan shower bases offer an impressive level of flexibility and are a smart choice for any bathroom remodel or design plan.
The Shower Bases in the Cosmopolitan Collection have a sleek and clean aesthetic with no unsightly grout lines to maintain – perfect for a minimalistic space. These one-piece bases are offered in three styles: Lado, an end drain with a uniquely curved matching end drain cover; Centrar, a center drain with unique cover; and Artesa, a covered trough end drain. Available with two different organic textures and four color options: white, gray, black and sand. Think of these bases as one large piece of tile, only without the grout. They feature low-profile designs with multiple thresholds for the ultimate in installation flexibility. The shallow design allows them to be neatly recessed into the floor for a seamless look, while the low-profile silhouette promotes easy entrance and exit for people of all ages and abilities.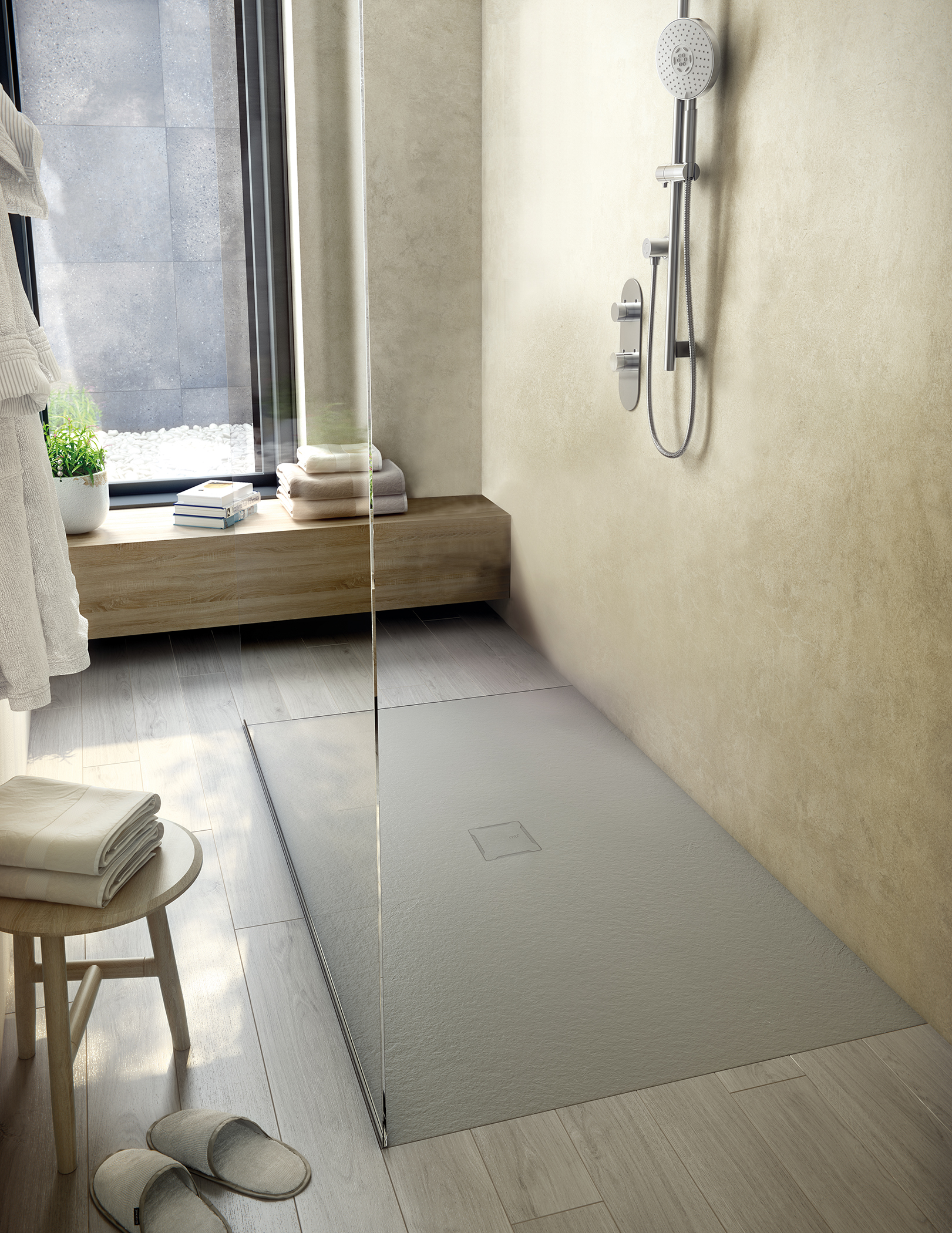 Like all products in the Cosmopolitan Collection, the bases are crafted from Cast Engineered Stone, using MTI's signature mineral composite blend of organic Dolomitic Limestone. After a proprietary process, the bases are finished by hand for amazing durability and lasting beauty. The result is a non-porous surface that is resistant to scratches, stains, mold and mildew, and is easy to clean and maintain. Each base is equipped with a factory-installed tile flange for a water-tight fit.