Connect. Educate. Elevate.
What is DPHA?
The Decorative Plumbing + Hardware Association is a community of industry professionals whose goal is to connect, educate, and elevate the decorative plumbing and hardware industry. DPHA believes in the positive impact of bringing people together and taking the kitchen and bath spaces to a more elevated place.
Why Join DPHA?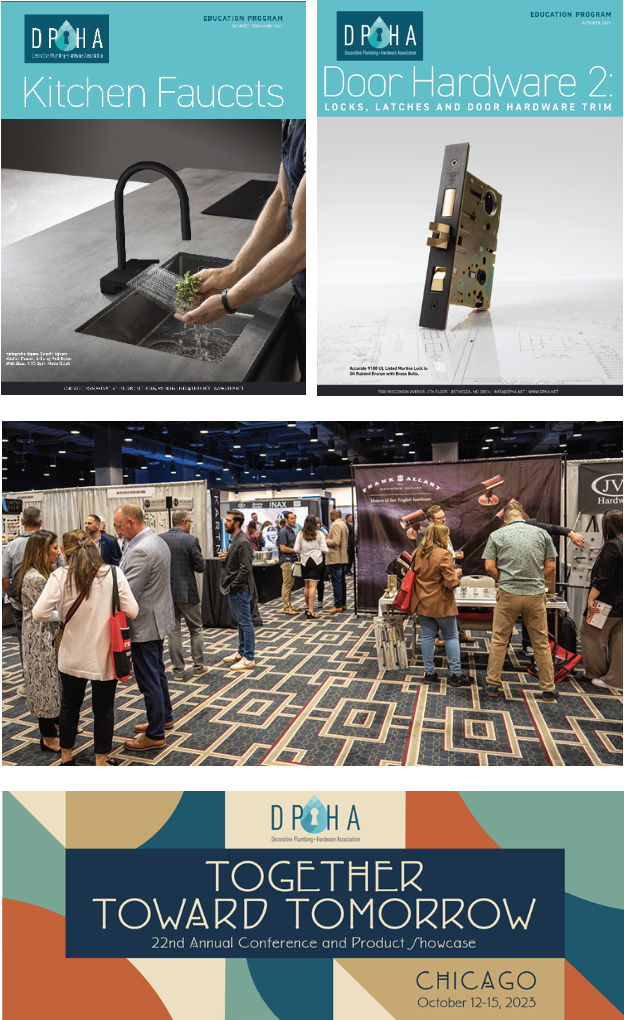 Education of professionals within our association and exposure to new products and new ideas is a cornerstone to professional development and success. The industry's most comprehensive training program, DPHA University, encompasses technical training, product knowledge, and sales guidance for selling in premium and luxury showrooms.
Connections is our weekly newsletter full of industry developments, new product announcements, sales tips, and association news. New members are featured in our New Member Spotlight to introduce your company to membership and our distribution list of over 2,500 members. Connections: A+D Edition is a monthly newsletter sent to over 7,000 architects and designers across North America featuring new product announcements from our DPHA members.
Networking is a cornerstone to our association. Connect with your peers throughout North America with webinars, virtual member roundtables, Happy Hours, and more!
Our Annual Conference and Product Showcase serves as the venue for networking with industry peers, exchanging ideas, obtaining competitive advantages, and for manufacturers to introduce new products. Occurring each fall, it is chock full of relevant educational sessions, networking opportunities and an engaging product showcase featuring 60+ luxury exhibitors. The 22nd Annual Conference and Product Showcase will be taking place October 12-15th, 2023 in Chicago.
Awards are given out each year at conference as the DPHA recognizes the best products, people, and companies in our industry.
Our Website allows DPHA members to search for other members, access our education programs, watch recorded educational webinars, read old issues of Connections, update their company and member profiles, pay invoices, and so much more. We are also active on Facebook, Instagram, and LinkedIn.
Staff