Hydro Systems Most Popular Bathing Design Reimagined in the New Grant Hydroluxe SS Tub.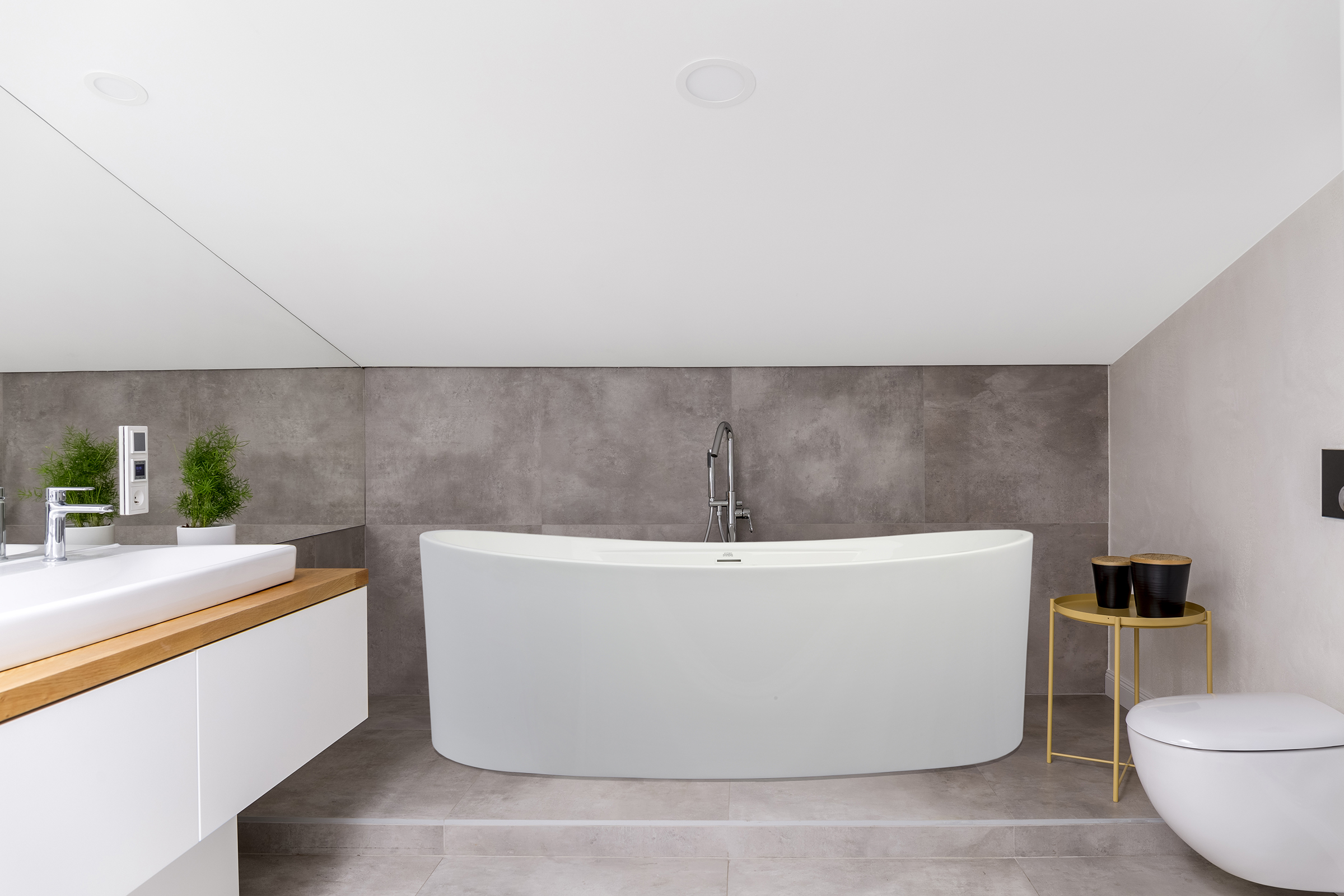 Hydro Systems introduces the GRANT freestanding bathtub. The Grant was created with gentile curves that soften the shape of the tub, featuring one of our most popular bathing shapes. The bathtub has a capacity of 80 gallons and dimensions of 66 x 36 x 23. Hydro Systems prioritizes sourcing the finest materials in which their products are made. And to ensure that, their materials and manufacturing are 100% American made. Representing the latest in eco-friendly performance, the HydroLuxe SS is a range of seamless, handcrafted solid surface vessels constructed from a blend of ground natural minerals and the best in man-made composites. The bathtub comes standard with integral overflow drain keeping with the contemporary minimalistic style. In addition, a predrilled faucet deck is easily integrated or a built-in storage area for bath essentials. An optional access panel can also be integrated for easy access to essential components.
Make the Grant an ultimate bathing experience by adding a thermal air system with remote control. Furthermore, the thermal air system includes Hydrozone. Hydrozone is the ultimate water purifier that is an easy and cost-effective way to ensure a sanitary bathing environment every time you step into your bathtub. Additionally, you can choose from an array of "in trend" colors. The standard colors of almond, biscuit, or white and the premium colors which include Black, Blue, Carbon, Espresso, Gray, Lime Green, Olive, Pink, Red, Royal Blue, Sky Blue, Violet, Yellow. Don't see the exact color you are looking for? We can color match too. To further accommodate the buyer, Hydro Systems included a choice of matte or polished finish. They have even included a 10 year warranty.
The Grant bathtub is bold and commands attention. Named after the 85-story Aqua tower in Chicago, the fluid lines of the tower are represented in the oval shape and curved lines within the tub. The Aqua tower soars above Grant park, honoring 18th President of the United States, Ulysses S. Grant. Grant park is a 312-acre public park, the centerpiece of Chicago featuring some of the most iconic landmarks.