ThermaSol Taps into the Health, Wellness and Smart Homes Industry with a Newly Accredited CEU.
Date posted
October 21, 2022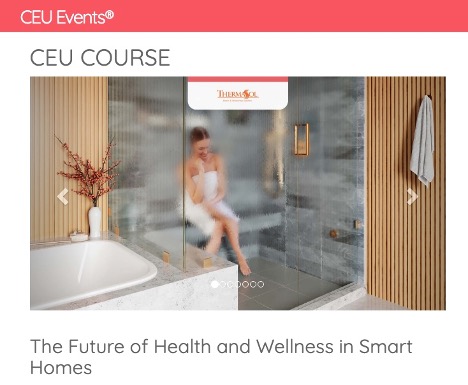 Having been at the forefront of home technology since 1958, ThermaSol has always believed in the confluence of water, steam, and smart shower technology. They've long been extolling the benefits not only of steam, but of how, when using technology, homeowners can personalize their showering experience in ways they had never thought possible.
Using all of their combined institutional knowledge, and understanding how important education is within the industry, they are pleased to announce that they've received accreditation for a new CEU titled, "The Future of Health and Wellness in Smart Homes".
The course is designed for interior designers, bath designers, showroom personnel and really anyone who has a stake in ensuring that any project being designed or retrofitted should have the most up-to-date information on an industry that continues to evolve.
They know that homeowners (and the designers helping them), are inundated with ideas about the 'Connected Home' and they also know how overwhelming that can be. Smart home technology now literally covers everything from the front doorbell (hello Ring Central) to the back door and every room in-between. So how do you drown out what is NOT useful and zero in on what is? This is where education plays an important role. The new CEU covers these issues:
The home wellness market; it's size and statistics about this ever-growing market
Smart home technologies – learning about the technology that can improve occupant's health, safety and well-being
Gaining a deeper understanding of how to integrate technology into primary bathroom designs
ThermaSol's mission has always been focused on providing the best products to help anyone and everyone define what their own personal wellness and home spa looks and feels like.
The course can be taken through CEU Events here:
https://www.ceuevents.com/thermasol_steam_showering_systems