Top Knobs Releases Guide to 2023 Kitchen Design Themes.
Over the past few years, the kitchen has become the central living hub of the home, with its use transitioning from singular to multi-functional. As kitchen design and function continue to evolve, so do the trends that define this space. In 2023, kitchens get a refresh with updated looks that up the style ante!
Top Knobs outlines this year's leading kitchen design themes:
Full on Glam
Kitchens receive the full glamour treatment. Straddling the line between chef-worthy and ultra-chic, these luxurious spaces are equipped with high-end features that are dripping in opulence. By adding dazzling design elements like Top Knobs' knobs and pulls in Polished Nickel, your kitchen will shine bright like a diamond.




Soft & Neutral
The color spectrum is ever-expanding and preferences for interior chromatic pallets are in constant transition. While it may seem like everyone was making a statement with vibrant green and blue cabinetry before, 2023 takes a demure turn with a desire for a more subtle approach when it comes to cabinetry color. This year, neutral wood tones and white hues reign supreme, according to a Houzz study. For those still looking to go bold, stand-out decorative hardware from Top Knobs' Kara series will certainly make neutral cabinetry pop.
Elevated Industrial
As industrial elements pick up in popularity, so does the yearning to incorporate this genre of interior design in every room of the home. Be it genuine building features left exposed or faux decorative embellishments that give way to an architectural and urban atmosphere, one thing is certain, this theme is here to stay. The Top Knobs' Amwell pull offers the perfect touch of mechanized detailing, suited for a contemporary kitchen.
Modern Marble
Large-format tile and stone slabs in marbleized reliefs are commanding attention in the kitchen this year. From countertops to backsplashes and wrapped islands, these larger-than-life coverings enhance the kitchen with natural beauty. As not to overpower, these outstanding surfaces, fixtures in complementing finishes will pick up the nuanced details of kitchen cladding, to establish a cohesive and balanced environment. Available in over 30 finish options, our expansive catalog of decorative hooks, knobs, pulls and appliance pulls will complete the look of any kitchen. Find the look that suits your space here.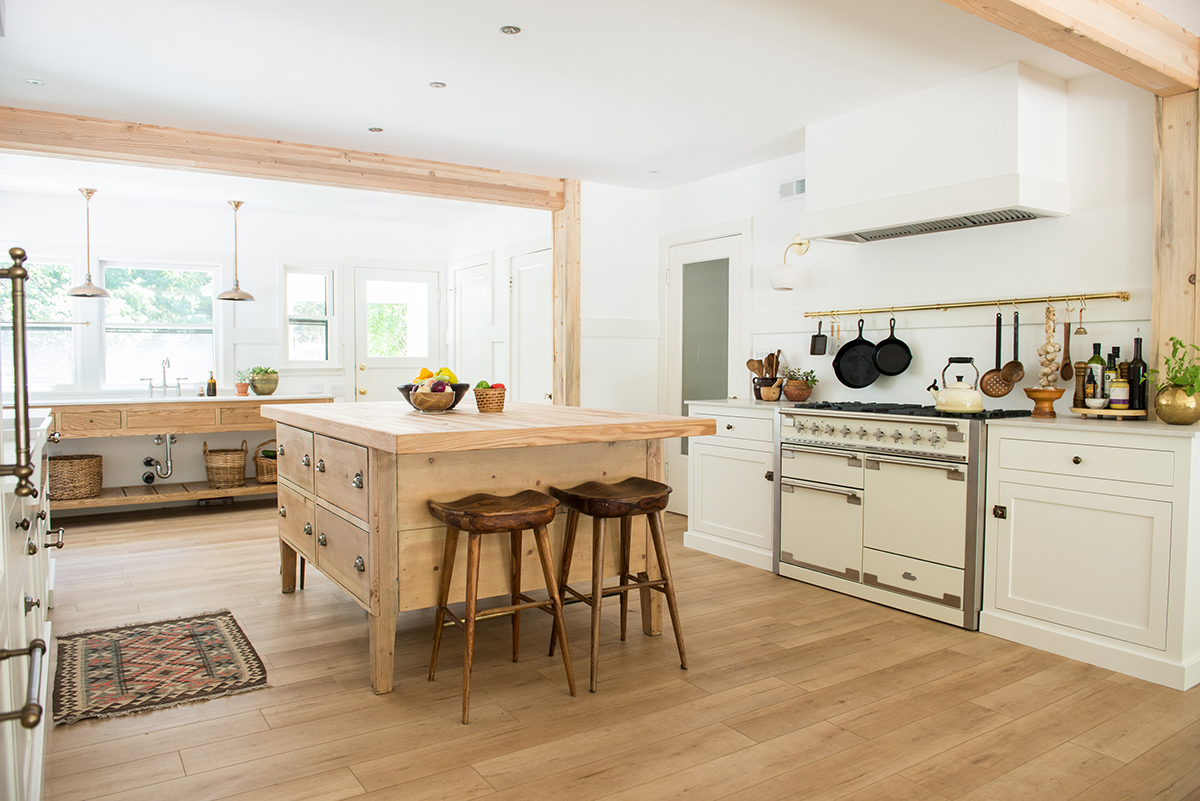 Bigger & Better
"With great power comes great responsibility," Voltaire.
As the kitchen maintains its role as the workhorse of the home, ancillary space is a must. Although they may still be considered the ultimate luxury, prep kitchens are the way of the future. These hidden gems are accessible from the main kitchen area and offer extra space for meal prep, storage, and entertainment. When adding a scullery or butler's pantry to your home, consider our Coddington collection. New for 2023, this complete line features 5 different complementary suites of cabinet knobs, pulls and appliance pulls that will create a defined yet unified look in each part of your kitchen.