Let's Keep the Remodeling Momentum Going and Growing. Thoughts from DPHA Fellow Jeffrey Valles
Date posted
January 14, 2022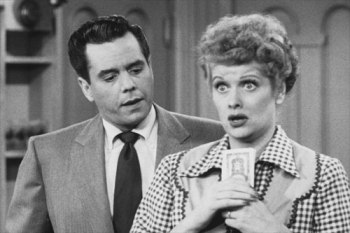 Zoom in on the Riccardo dining table:
Lucy: Ricky, I'm getting so tired of hearing the Mertzes talk about their n-e-w, BeaUTI-FUL beautiful bathroom.
Ricky: Oh yeah. Fred talks so much about his symphonic bowel movements; I just can't get that horrible image out of my mind.
Lucy: Let's make our bathroom better than the Murtz's.
Ricky: Lucy, you know money is tight now. People are just starting to come back to the club. And there are all those horror stories about people with torn up bathrooms with no idea of when their fixtures will be delivered, let alone installed.
Lucy: But Ricky…we have to start sometime. Let's just go by Bath & Hardware Extravaganza and see all the beautiful fixtures.
Ricky: With Covid in the air? They're just starting to come back to the club. I can't get sick.
Lucy: But Ricky….
This is what our target customers are thinking. Their friends and neighbors have installed beautiful bathrooms and added gleaming hardware. They have the money and desire to improve their home, but there is so much negative noise from local, national, and Internet news. Damaged supply lines are extending product deliveries beyond any known normal times. Architects, designers, builders, and plumbers are booked up through 2022. People cannot even drop by your showroom to tour your fabulous showroom and get the best information because Covid has you running your business by appointments only. All this noise, coupled with people's everyday fear of building and remodeling, is slowly killing off this great build and remodel market. So how does the decorative plumbing and hardware world move these primed customers off the fence and push them into getting started no matter how long it takes?
My suggestion is to tell the truth whenever, however, and to whomever we can. Sure, the design and building trades are busy, and it is true that delivery times are at record lengths. But if you do not get started, you might never live in the home you desire. So, let's get started. Let's make our message simple and straight to the point.
Vendors
If you are hiding your delivery times, please stop. You are only hurting your brand. A showroom salesperson who does not know your delivery schedule will not actively sell your products. Be honest. Keep your showrooms and sales representatives informed. Having an answer is so much better than saying I don't know. Make sure your customer service team is always up-to-date and they do not shy away from telling the truth. If your lead times shift, good or bad, email this information to your reps and showrooms, share it on social media, and place it prominently on your website. Most people know delivery times are out-of-whack and they know it is not all your fault. So, be transparent. What do you have to lose? Hiding or fudging the truth is never a good strategy.
Sales Representatives
Drive your vendors crazy by persistently asking about their lead times. Do not hide and hope your vendors contact you. Once you have the information, share it with every showroom, designer, builder, and plumber in your network. If the showroom, design and building professionals know you are on top of it, you and your brands will benefit in the long run. Your agency will become their go-to in this pandemic time and they likely not forget what you did for them during the great pandemic.
Showrooms
You must join your sales reps in bird-dogging your key vendors about their lead times. You and your team are on the front line and deserve to be in the know so you do not get blind-sided. If vendors refuse to share this information, act accordingly. Once you have updated delivery times, email your customers, every address in your database, and your entire target markets. Make sure they know that you are on top of your vendors' delivery times and can tell them how long it will take for all the job's products to arrive. Regularly share this information on your social media sites and post each vendor's latest delivery information on your website. Any website can show pretty pictures of jobs and products but only a few can become a true job planning tool for busy architects, designers, builders, plumbers, and anxious homeowners.
Even in great times, remodeling and building a home is a pain in the keister. All involved should share pertinent information with your customers, professional or not. Being the best source for important product information is a great way to build your brand's stature.
Today, it seems everyone is talking about making their home better and that is not always the norm. There remains a great opportunity to continue this momentum, but you will have to work for it. Covid and supply chain stories, coupled with people's imagination, can go in many directions. So, control the story. Be a transparent brand that is on top of their business. Become the company that knows and shares its hard-won information. Simply tell the truth.
The truth, once in full view, is both soothing and motivational. Would you share your time and money with a company that cannot answer the questions of the day?